9 to 5, The Musical, has come to a close.
Thank you to all who attended.
Your support and enthusiasm was felt well beyond the packed houses and applause.
It was such a treat to get to perform for you all. Until next time.
The winner of the 50-50 draw and $1257.50 is ticket number 5174301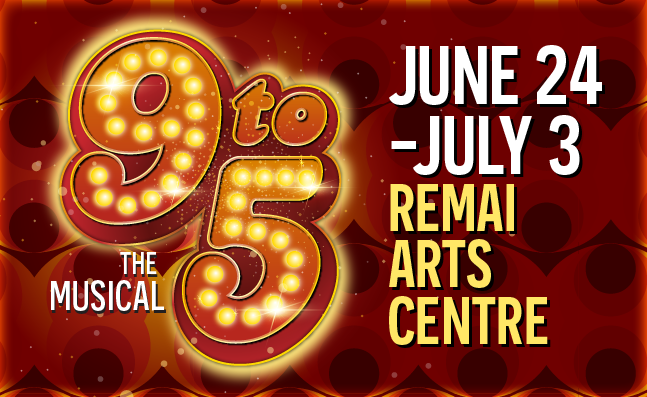 Friday, June 24 – INVITE ONLY
– Orange cast
Saturday, June 25 – 8pm
– Yellow Cast
Sunday, June 26 – 2pm
– Orange Cast
Sunday, June 26 – 8pm
– Yellow Cast
Monday, June 27 – 8pm
– Orange Cast
Tuesday, June 28 – 8pm
– Yellow Cast
Wednesday, June 29 – 8pm
– Orange Cast
Thursday, June 30 – 8pm
– Yellow Cast
Saturday, July 2 – 8pm
– Orange Cast
Sunday, July 3 – 2pm
– Yellow Cast
Based on the 1980 film, 9 To 5 follows three friends conspiring their way to the top in a man's world.
Pushed to the boiling point, Violet, Judy, and Doralee concoct a plan to get even with the sexist, egotistical, lying, hypocritical bigot they call their boss. It's a story about friendship, revenge, and standing up for what's right. With a Tony Award and Grammy-nominated score by the legendary Dolly Parton and book by Patricia Resnick, this undeniably upbeat show will have you toe-tapping the whole way home.
Orange Cast:
Jen Duggleby
Robin Burlingham
Celeste Nicholson
Aron DoSouto
Matthew Olson
Tyler Campbell
Yellow Cast:
Sarah Manafo (Stand-in Jen Duggleby)
Amy-Leigh Thiessen
Keisha Mowchenko
Jessica Goodman
Jordie Hughton
Paul Amante
Please note:
To take the best care of our cast, the role of Violet Newstead will be played by Jenn Duggleby in both the orange and yellow shows.
A big thank you goes to Sarah for all of her work and passion throughout this process!
Music Direction by:
SHAUN BZDEL
Directed by:
KRISTIE ELLIOTT
Choreography by:
BRENDA BENNETT
Meet our designers below!
Music and Lyrics by:
DOLLY PARTON
Based on the 20th Century Fox Picture
Originally produced on Broadway by Robert Greenblatt, April 2009
Orchestrator:
BRUCE COUGHLIN

Arrangements and Additional Orchestrations by:
STEPHEN OREMUS  & ALEX LACAMOIRE
9 TO 5, THE MUSICAL is presented through special arrangement with Musical Theatre International (MTI).
All authorized performance materials are also supplied by MTI.
www.MTIShows.com
Thank you to our incredible Funders and Sponsors!
Costume Design by:
EMILY REMPEL & JILL JEFFREY
Lighting Design by:
JEREMY SMITH
Sound Design by:
MATTHEW THOMPSON &
ZACH GREENHORN
Set Design by:
SHAUN BZDEL & CATHERINE HUI
Production Manager:
MEGHAN MCDONALD
Stage Manager:
LORNA BATYCKI
Vocal Director:
ANDREW LINSLEY
Assistant Director:
GWENDA MACPHERSON
Assistant Choreographer:
TORYN ADAMS
Assistant Vocal Director:
EMRY TUPPER
COMING SOON: Stay tuned for our online program to see the full list of our incredible production members, orchestra, and cast.